Every day gives us 1,440 minutes to make a positive impact, 1,440 chances to make a powerful rippling effect on tomorrow.
Every day gives us 1,440 minutes to make a positive impact, 1,440 chances to make a powerful rippling effect on tomorrow.
The KLR Making an Impact team is devoted to helping our communities whenever we are able. After all, "a moment of kindness has the power to change lives in ways we may never know."

Spreading kindness through food drives, walks, athletic events, and family resource programs this past year has allowed our team to step back and realize how fortunate we are and how important it is for us to help those who struggle.
Tons of Love Food Drive
Every February, KLR partners with the Newport County Chamber of Commerce in their annual "Tons of Love" food drive, to benefit the Dr. Martin Luther King Jr. Community Center. The MLK Center works tirelessly each day to fight hunger, promote health, educate children, support families and engage seniors all across Rhode Island. Together, almost 1,500 pounds of food, $2,000 in cash and $125 in gift cards were collected in their most recent "Tons of Love" food drive. As the KLR crew hauled in our bags of donations, we couldn't help but think of all the families that would benefit from our small act of kindness.
Spreading Alzheimer's awareness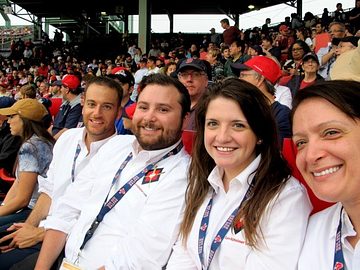 The Making an Impact team kicked summer 2019 off by participating in CureAlzheimer's Annual Red Sox event, which brings together doctors, donors, researchers and impacted families to spread the word about Alzheimer's disease and raise money to work towards eradicating it.
The KLR team was tasked with making the event run smoothly behind the scenes, welcoming donors to the game, handing out swag bags to attendees, leading donors and guests to their seats, and more.
As Audit Supervisor Tyler Gay reflects, "CureAlzheimer's Red Sox event was an awesome and fun way to get involved in this cause and work to spread awareness about the disease. Being a small part of something so impactful was very meaningful for me."
Helping our neighbors in Boston
As the KLR Making an Impact Team entered the Reggie Lewis Center in Boston this past July, a feeling of hope struck the team, as they soaked in all that the Greater Project Connect event had to offer. This full service event offers Boston families the opportunity to get health & wellness advice, financial checkups, legal services, family resources, haircuts and more. Over 400 families attended this year!
Acting as "family guides," the KLR team led individuals and families through various booths according to their needs.
As volunteer Kathleen recalls, "One man I helped had two requests…advice about his current housing arrangements and….a backpack. I led him to the appropriate stations and he was so grateful for the opportunity to better his situation. It warmed my heart that I was able to help."

Catherine Crosby echoes Kathleen's sentiments about her experience at Project Connect.
"It was very impactful to see the difference I made in just a few hours helping connect a family to various resources in the community," says Catherine, "The family I was helping really wanted to take an active step in improving their current situation and I was happy to help them in any way I was able."
As we prepare for an upcoming food drive and our annual Adopt-a-Family holiday donation, we are filled with hope that our little bits of good put together can make a huge impact on our community.
As Nelson Mandela once said, "There can be no greater gift than that of giving one's time and energy to help others without expecting anything in return."
We have more than 150,000 minutes left in 2019, and we know we can make them count.