KLR gives back to our communities.
We have had a busy few months, and meetings, conferences and deadlines have made life a bit hectic, but beyond our demanding schedules, we have been able to make room for something else—to begin and close our autumn season by handing out a little bit of hope.
Furthering a child's potential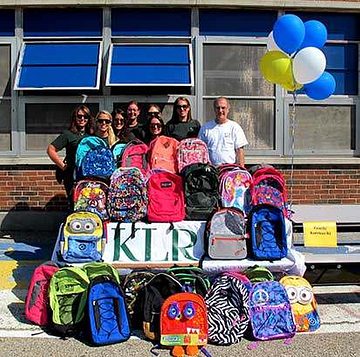 As the saying goes, "No act of kindness, no matter how small, is ever wasted." Something as small as a backpack filled with school supplies means everything to a child in need. When the KLR team stuffed backpacks for children around New England this past September, there was something else stuffed in the backpacks besides pencils, notebooks, and crayons—and that was HOPE.
Throughout the month of August, our donation boxes in our offices were brimming with all sorts of new items for local kids. Together, we were able to collect 56 backpacks and fill them with folders, notebooks, and pencil cases containing pens, pencils, erasers, crayons, markers, rulers, glue sticks, and scissors.
Our Providence team members attended the annual "Back to School Bash" at The Mary Fogarty Elementary School to deliver the donations and it was, as Jessica Ratcliffe says, "a heartwarming experience, especially when we were able to see firsthand the huge smiles on the students' faces as they tried on their new backpacks." The event inspired our team members to step back and realize how fortunate we are, as Kristen Ferreira realized, "I can buy my son a backpack and school supplies, but I know not all families are that fortunate, so it felt great to give back."
Sharing a meal
Our Thanksgiving food drive allowed our team to start off the holiday season with a thought similar to this, to provide for families beyond the ones we're surrounded by every day. There is nothing better than sharing a meal with those you love, and making that possible for those less fortunate is something we should all strive to do, especially during the holidays. By grabbing an extra can of pumpkin, or cranberry sauce, or box of stuffing while out shopping this holiday season, our team did more than just fill up our offices with donations, we made Thanksgiving meals possible for families in need—a truly priceless feeling.
As Melissa Doumato mentioned, "I love to see human kindness in action. Everyone in our office was on board to provide a joyful Thanksgiving to struggling families in our community. We donated twice as much as we had in the previous year!"
Adopt-a-Family
Exchanging gifts has become a staple of the holiday season, and it always feels great to give a thoughtful gift to someone you love. What if you were not able to do that, though?
Through our Adopt-a-Family donation this year, we collected gifts for eight families around New England so that the holidays could be more joyous for those in need. Thoughtful gifts can mean the world to children, and brighten their spirits in a time when they may not have the same opportunities as others.
"The holiday season has always been my favorite time of year," says Kathleen Leavenworth, "Gift giving is just a small part of what makes holidays fun, but the huge mound of presents gathered at People Incorporated made me feel that our team was making a big difference in the lives of those around us."
Starting small
Every child deserves success, and that can begin with something very small—like a backpack. Every family deserves the chance to share a meal with those they love, and a box of stuffing is where it can begin. Every step that YOU take to focus on others and give back can make a difference. There is no end to kindness, compassion, and humanity, and we hope to always make a concerted effort to make an impact, no matter how small, on those less fortunate.
It is important to remind ourselves that handing out hope starts small—taking a few extra seconds at the grocery store to pick up something for someone else, grabbing a second box of pencils when shopping for your child's back to school needs—these seemingly effortless acts of kindness are the glue that holds our communities together. We are thankful to have had the opportunity to be a small part of making the return to school, Thanksgiving, and holiday celebrations memorable for our communities.
See photos of our team in action on the KLR Facebook Page.