Find out why we are so excited about the build-out of our office.
The best ideas begin with a vision for something beyond the ordinary. Every dream, desire, and aspiration begins and sustains itself with passion, determination, and tireless effort. Our dream was a new Boston office- something to complement our existing presence in New England- something innovative and tailored to our needs, a place that would be home for our employees and a center for growth for our firm.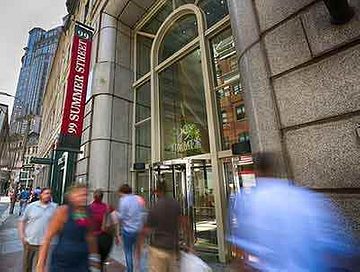 Our past few years at the Cambridge Innovation Center and on Commonwealth Avenue offered us a taste of the Boston atmosphere- the young and lively energy of this popular city was an inspiration to us. But we wanted more…
Then we found 99 Summer Street in the heart of downtown Boston, and our dream became a reality.
KLR is officially home in Boston. The new office is in the Financial District on Summer Street, putting us directly in the middle of one of the busiest Boston intersections. We are thrilled to expand and grow into the new opportunities ahead of us in this great city.
Left was a picture taken by Herschel Smith, Jr. & Lauren Healey (Green Imaging Photo & Video) – KLR is on the 5th floor! We're excited about the hustle and bustle happening outside our windows -- home to great restaurants, a variety of major corporations, and transportation (South Station) all within easy walking distance.
Starting from Scratch
Finding the space was merely the beginning of furnishing our dream. Adding our personality to an empty space would depend on our creativity and passion fueled ideas.
We were given the unique chance to create our own design and with more square footage than our previous Boston locations combined, we will have the freedom to create a more modern and customized area. We were able to start from scratch by designing a layout that better fits our team, our clients and how we're growing.
Home away from home
When you think about it, an office is a home away from home for many people. It's important that our employees feel comfortable here in their new work environment. Our best efforts are driven by our spirit, and our spirit is driven largely by the environment we're surrounded by. Our client-centric space will allow us to provide improved service and enable our team to work closer together.
To watch the office come together and to know that our hard work will provide the space we need to continue our growth is really exciting, and what better place to grow than Boston.
Location. Location. Location.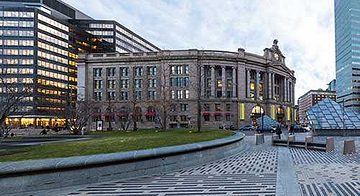 KLR's newest space is right downtown and puts us directly in the hub of one of the hottest cities in the US. A space within walking distance of the "T", South Station, parking, coffee shops, restaurants, etc., will allow us to explore and enjoy all the amenities that Boston has to offer. Boston has a little something for everyone and we are excited for the many ways this city will impact us and our clients.
Perfect Addition
Our existing offices in Providence, Waltham, and Newport have offered us the chance to be part of both the rich history of New England and the busy city life, too. Our three current locations continue to give us nice environments to come to each day to service our clients. Our hope is that our Boston location will further these opportunities by expanding our name, and in many cases, allowing an easier commute for our employees, and an easier meeting place for our clients.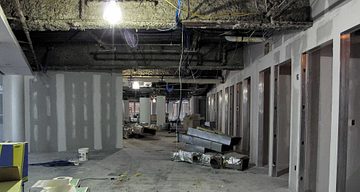 As those first paint strokes hit the walls of our new space in the coming days, and furniture and new workstations fill the space, we know the forward thinking of our firm will shine through to make this spot unique.
We'll be hosting several meetings as we open our new office – stay tuned for future announcements.
We want to give a shout out to our project manager, Seth Jeannotte, Facility Management Consultants, who is doing a phenomenal job managing the build out of our new space and to the KLR team, who has been working diligently on this for months, for their continued efforts on making it look so great.
Boston, KLR is here to stay.